Manual Click Speed Test
Now, you can discover how many clicks per second you can achieve within the time limit of your own choice with our simple and easy-to-use Manual Click Speed Test.
This tool effectively tracks your progress with cps speed over time, especially if you are a gamer. It allows you to monitor your clicking speed and see how it improves with practice.
Online Manual Click Speed Test
Discover your clicking speed within a timeframe of your choice with our user-friendly test! 
Click as fast as possible, and our test will calculate your clicks per second. It's an effortless and entertaining way to challenge yourself and compare your results with your friends. 
Plus, it's free; you can access it online without extra effort. Give it a try now and see how fast you can click!
What is Manual Click Speed Test?
It is a handy tool available online that can measure how fast you click within a specific time frame that you choose.
Unlike the Click Speed Test, here you can select the interval of time you want to test your clicking speed, and the tool will give you accurate results. 
Why Use This Test?
Whether you're a gamer, a student, or just looking for a fun challenge, this tool is perfect! Here are some of the benefits of using it:
Enhance your mouse-clicking skills and increase your CPS (clicks per second).
An enjoyable and relaxing way to challenge your friends.
Quick and easy to use.
Allows you to choose your testing time frame that makes it customizable.
Provides immediate results and lets you track your progress over time.
Share your scores on social media and compare them with others.
Best of all, it's completely free!
So, if you want to improve your clicking skills, increase your CPS, and enhance your gaming performance, give this free click speed test a try today!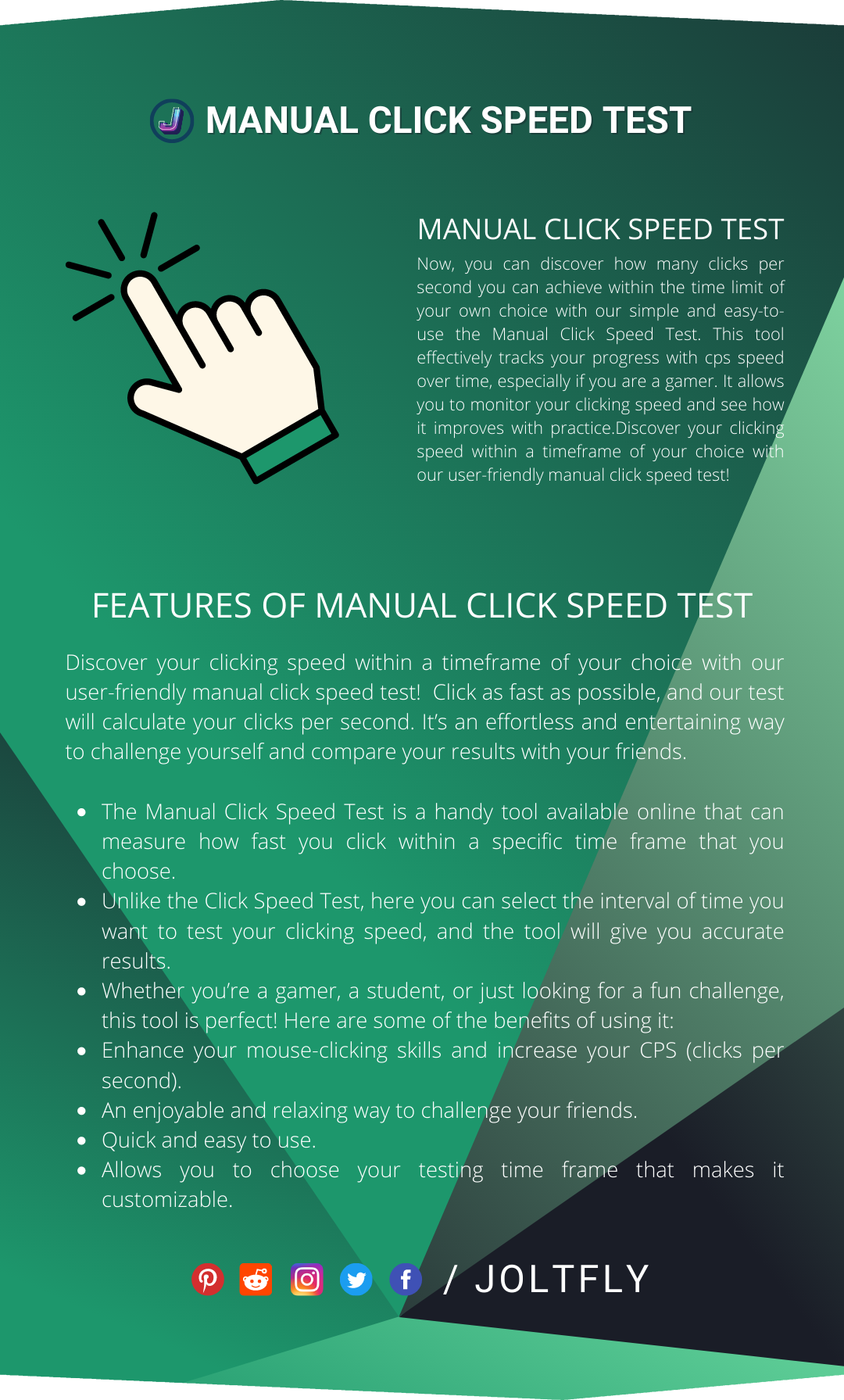 How to Use Manual Click Speed Test?
Testing your clicking speed with the Manual Click Speed Test is easy and fun.
Visit our website, open Manual Click Speed Test, and select your desired time interval.
Click on the playground saying "Click Me to Start Playing" and begin clicking your mouse as fast as possible until the timer ends.
Finally, check your score in the pop-up box and share it with friends on social media to spark the competition.
FAQs
What is the purpose of this test?
This test aims to empower you to measure your clicking speed in various time intervals of your choice. You can use it to test your mouse-clicking skills, improve gaming performance, or have fun.
How does this test work?
This test works by counting the number of clicks you make in a given time frame. The time frame is flexible and customizable based on your selection. The more clicks you make, the higher your score.
How can I see my score and rank on this test?
After you finish a test, you will see your score and rank on the pop-up screen. You can share your score and rank with your friends on social media.