Aim Trainer & Mouse Accuracy Test | Joltfly
Welcome to this amazing Aim Trainer from Joltfly. Now you guys can easily train here to take your aiming skills to the next level quickly. Moreover, you guys can also test your Mouse Accuracy along. So without wasting any time, get started with this trainer and have fun while training.
You can test your mouse for click speeding! Improve your Minecraft game by training your click speed (CPS) to insane levels. With the right aim training, you can become a master of clicking and take your game to the next level.
Aim Trainer & Aim Accuracy Booster
Unlike other aim focus and target sight enhancers, this lightweight trainer efficiently performs on low-end machines and is best suited for gamers looking forward to enhancing their aim to focus on the target without exhausting their systems.
While designing this Aim Trainer, our core focus was to provide a good alternative for users with low-end systems to enhance their aiming skills without any hassle. 
Just like any other fancy trainer such as 3d Aim Trainer, this game has all the core ingredients to enhance your gaming skills and outperform your opponents in competitive games like Fortnite, PUBG, CSGO, and other shooting games.
Features of Aim Trainer & Accuracy Test
Forget about fancy apps or games to improve your gaming skills. All you need is an internet connection and a browser.
Use this free tool to test your mouse accuracy and compare it with other gamers. This will help you enhance your control and increase your APM and EPM skills.
Also, explore the additional features available in this game.
First and foremost, you can always pick the time yourself that is the best suit for you to train and practice.
Moreover, there are three game difficulty modes available for now that are Basic, Moderate, and Expert levels. You can select either of these to begin with this game.
Furthermore, you can select the color and the size of the reticle or crosshair as per your comfort level.
In addition, you guys can also change the size of the target and its shape according to your requirements.
This game showcases the accuracy of your target hitting with respect to target misses and target hits.
Last but not least, there are special ranks specific for each user based on their performance so, try to achieve the best of the lot.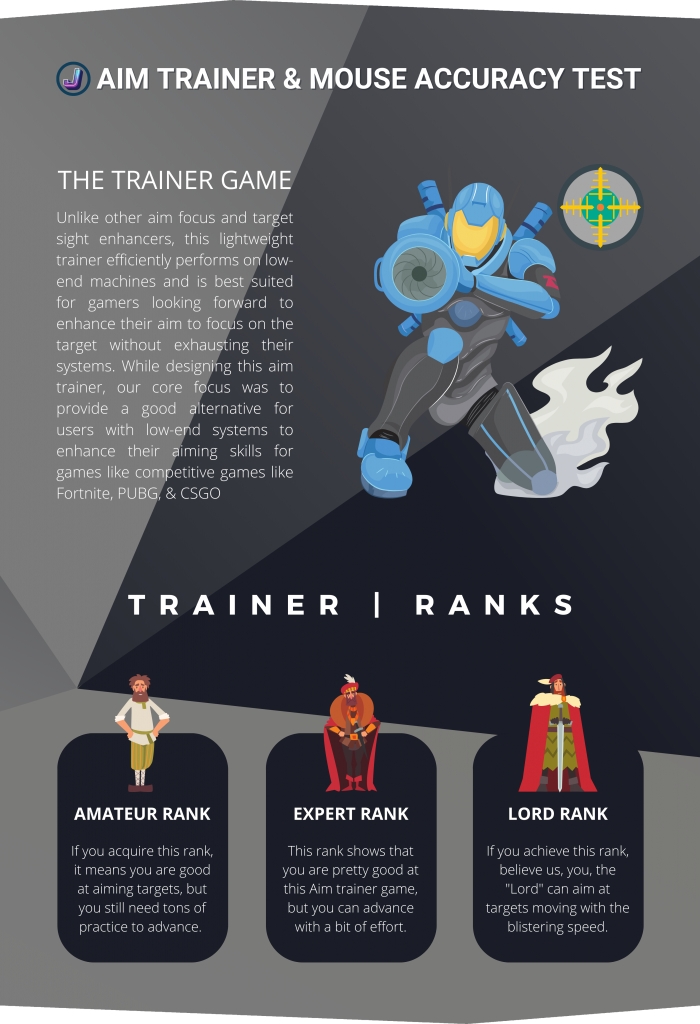 Upscale Your Skills With Aim Trainer & Accuracy Test
No matter if you're a newbie or an expert, this test will unveil your hidden talents.
There's never been a better time to jump into the world of gaming high-stakes matches with this online Aim Trainer from Joltfly.
Our program is simple and accessible for players at all levels, you can now practice your skills, and improve your reaction time with a repeatable training scenario.
And best of all – it's not just for targeting! Thanks to our flexibility, you're also able to test speed and accuracy with other areas like mouse-based movements.
Ranks of Aim Trainer & Accuracy Test
Special ranks are now available for users to attain to boost the game's competitiveness.
Additionally, share your scores on social media and challenge others to beat your records on the leaderboard.
Amateur Rank
This rank is specific for users who are just ok with their Mouse Accuracy, aim & target.
Expert Rank
This rank is dedicated to our fantastic users who are experts of this aim enhancer game.
Lord Rank
The lord rank is for our supreme users who are best in the business of aiming and hitting.
Tips for Improving Your Aim with Your Mouse
Follow these tips to level up your game and improve your aim:
Choose a high-quality gaming mouse that fits your hand size and grip style. It should have a high mouse polling rate and low mouse latency for precision.
Get a large and smooth mouse pad to ensure consistent tracking and movement.
Keep your mouse clean and free of dirt to maintain its performance.
Practice regularly on this aim trainer to enhance your skills.
Warm up before competitive matches with exercises or drills to loosen up your muscles and get used to your mouse settings.
Analyze your performance and identify your strengths and weaknesses with replays or stats on this tool.
Learn from other players who aim better by watching their streams or videos and emulating their techniques and strategies.
Lastly, stay positive and enjoy the process – improving your aim takes time and practice.
How to check or test Mouse Accuracy?
Use this mouse test to verify if your mouse is functioning correctly; then, play this game to test and further enhance your Mouse Accuracy and aim targeting.
What is a decent Mouse Accuracy score?
A seventy-five percent score or anything above 75% is a decent accuracy score. But as it says, more is always better, so always aim to achieve higher targets.
How to improve mouse tracking & target aiming?
It is better to use the claw grip while tracking the aim specifically. Meanwhile, you can also use the palm grip, but it is better for flick shots in contrast to the aim tracking; ultimately, success lies behind hard work, so practice a lot to improve your skills.