Clicks Per Thirty Seconds | Challenge
Tapping for thirty seconds straight with blistering speed is not as easy as it sounds. So, complete this Clicks Per Thirty Seconds Challenge and exhibit your skills before the world.
This challenge is not as easy as it appears to be. Indeed the key to success in this challenge is taking a balanced approach while clicking with some blistering speed. Besides this, try other particular click challenges as well.
Thirty Seconds Click Speed Challenge
Clicking is an art, and it is a potent tool. Well, you might be one of those people who can click fast, but have you ever tried to click as fast as possible with a time limit? So, if you have not tried click speed time limit challenges yet, then this test is going to prove your skills in clicking.
Yes, you read it right! This test will measure your clicking speed skills with a time limit. This is going to be the most challenging task for you as a user if you are new to it.
Features Of Thirty Seconds Click Speed Challenge
The difficulty level of these challenges gets progressively harder with every new challenge, so you have to be consistent in your approach to win. 
As a result, if you're dedicated to grabbing high ranks, then you need to maintain a consistent approach throughout the game as clicking with excessive speed may cause you to fail, thus resulting in lower ranks.
So, do not get shy or hesitate because practice makes a man perfect. Though it looks simple sometimes its simplicity can be deceptive and tricky. You just need to keep practicing till you feel comfortable playing it perfectly.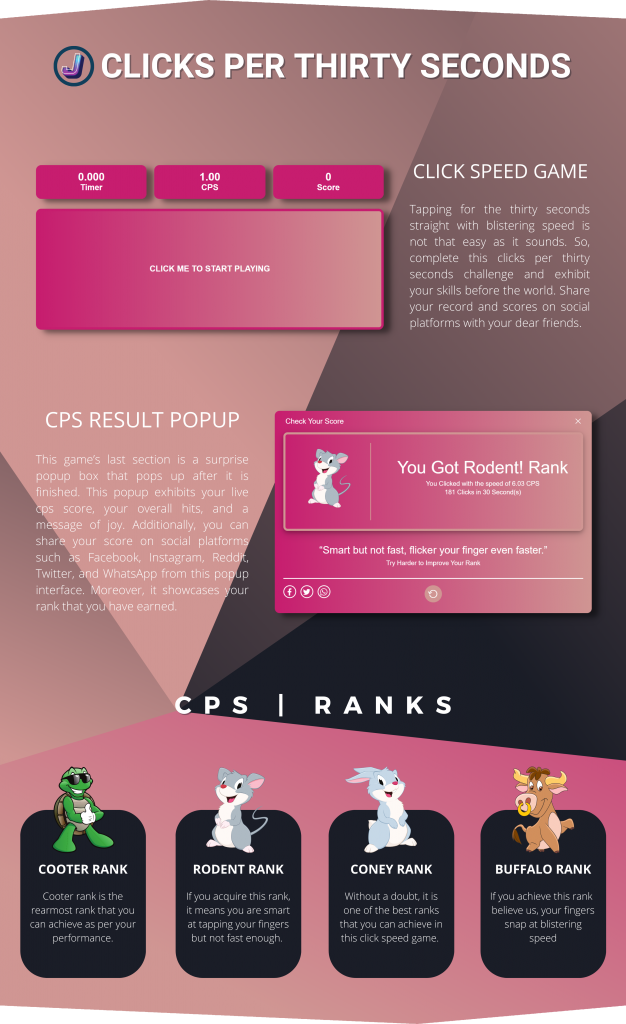 Did you know that this challenge's top scorer scored 372 Clicks in 30 seconds, making it 12.4 clicks per second. This record is definitely breakable, and we believe you can break it.