Importantly, there is no need to download any fancy apps, widgets, software, or any browser extension. Meanwhile, users can enjoy this fantastic game online using a browser of their choice. Additionally, this game will help you prepare better for other exciting games and challenges on this website.
Online Click Counter
Particularly, this counter is designed for users finding other click challenges hard to play.
If you find it difficult to perform in other click games on this website just because of the time constraint involved, then this challenge is just the right place for you to practice your clicking skills from scratch and enhance them without any fear of time restriction and leaderboard ranks.
Moreover, this counter can help you keep track of other routine tasks involving counting.
Updated Click Counter for Joltfly Users
Now our users can enjoy the perks of clicking in this unique Click Counter without any time constraints hanging over their heads.
The idea for a fixed limit on how many times users could click appeared to be too limiting, so we've made it free-flowing and unhindered by any number.
With the new Click Counter, you'll never have to stop clicking because of a timer running out!
Now you can click all day long and not run out of clicks.
This is just one more benefit Joltfly has for our users that we're proud to offer as part of our commitment to our service excellence.
Features of Click Counter
Just like any other game on Joltfly, this game is also optimized for a better user experience so that they can play this game without any considerable hindrance.
Moreover, the design of this online program is simple and straightforward. Therefore, users from any background can understand and play it with ease.
Unlike Click Speed Test, there is no specific timer ticking, so users can play this game without worrying about the time constraint and the competition of the leaderboard race.
There is a specific Click Counter just above the clicking area, which keeps count of the number of clicks, so users can easily tally their clicks live while playing games.
There is a specific duration indicator just above the clicking area and beside the Click Counter, which keeps the record of the time spent on this counter in seconds. So, the users can keep a check on how much time they are spending here on this tool.
Because of its responsive design, users can play this free game on mobile devices like android, iPhones, tabs like Android tablets, iPads, and personal computers such as Laptops operating on Windows or Ubuntu and MacBooks with an equally amazing experience.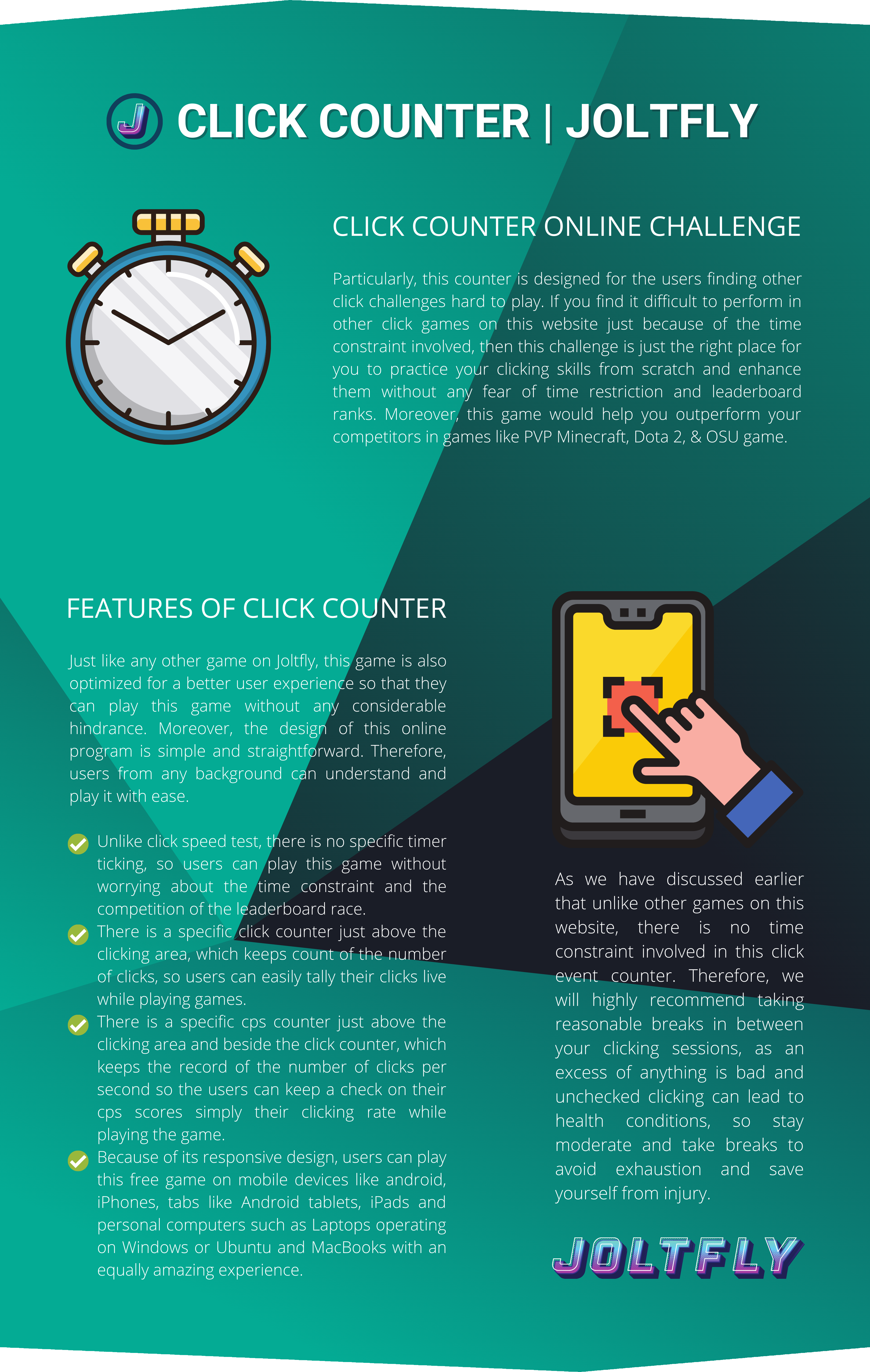 How to Play Click Counter Game
Most of our users would not find it difficult to play this game due to its simple and straightforward design, but keeping the keeping tradition alive, we will discuss how users enhance their click speed playing this Click Counter game.
Users can simply start this game by tapping on the area stating "TAP ON ME TO START THE GAME" and keep hitting the target deck hard with consistent speed as fast as a speedy rabbit using your mouse or touchpad.
This game is quite uncomplicated, and there are no fancy factors involved in this game; all you need is to tap on the clicking area at a consistent pace to generate an enormous amount of clicks.
There is a popup message designed just to remind you of excessive clicking pay attention to this message and when it overlays on your fullscreen, take a reasonable break.
Apart from this, you can use the exit button at the top-right corner of the message box and the reset button at the bottom-center of the message box to replay this Click Counter game, or simply click anywhere in the background to get started again.
Moreover, users can always share this game on social media with their friends to keep the spark alive in this blistering game and don't forget to try other challenges and tools on this website.
Additionally, users can record their videos of playing this click test and share them on YouTube and TikTok to spark new social media trends.
As we have discussed earlier that unlike other games on this website, there is no time constraint involved in this click event counter.
Therefore, we will highly recommend taking reasonable breaks in between your clicking sessions, as an excess of anything is bad and unchecked clicking can lead to health conditions, so stay moderate and take breaks to avoid exhaustion and save yourself from injury.
FAQs
What is the world record for this Click Counter?
This unblocked version of the virtual Click Counter machine is free of such constraints. It is simply designed for users to practice their clicking expertise independent of the time limit and leaderboard battles. So, just click on your mouse's right key and try to generate a burst of click through your clicking hand for a minute or less, actually irrespective of time.
How to be a part of this best Click Counter challenge?
This Click Counter is completely free to play, and anybody can be a part of this challenge by tapping on this link which makes it a global Click Counter. There is no need to download any mobile apk, desktop exe, or chrome browser extensions to play this game.
Is this game available offline?
Unfortunately, this game is not available offline yet. The best users can do is google Joltfly or directly navigate to joltfly.com and traverse to the Click Counter to play this game and determine how fast you can click using your mouse.