Badlion Click Test | Joltfly
Joltfly brings a brand new Badlion Click Test for users enthusiastic about Badlion Network of custom PvP game modes which are built on top of the Minecraft game.
Moreover, users can use this click test to practice for their player versus player games on the Badlion Minecraft community client. This client has built-in features such as client anti-cheat, FPS improvements, mods, and much more.
Badlion Click Online Test
Pack up your popcorn, put your safety goggles on, and crack open a cold one because "Badlion Click Test" is in town! It's time to introduce the idea of Joltfly.
We build our own trainer game for players who are enthusiastic about Badlion Network – or just want to have fun with friends.
This click test is mainly designed for users to practice improving their clicks per second.
As Badlion's client server is relatively more secure and has strict policies against scammers and cheaters, therefore, we would recommend utilizing this game to enhance your skills and outperform your competitors in Minecraft PVP by fair means.
Features
Like other games on Joltfly, users can achieve impressive ranks in this click test to stay engaged. Additionally, users can share their achieved scores and ranks on social media platforms.
Unlike regular Minecraft launchers, this separate launcher has extended security features, and it is quite sensitive towards famous cheating methods like X-Ray, double click and fire buttons, and others.
Therefore, it is highly recommended to utilize this click test to prepare for real-time PVP Minecraft game by fair means to avoid getting banned.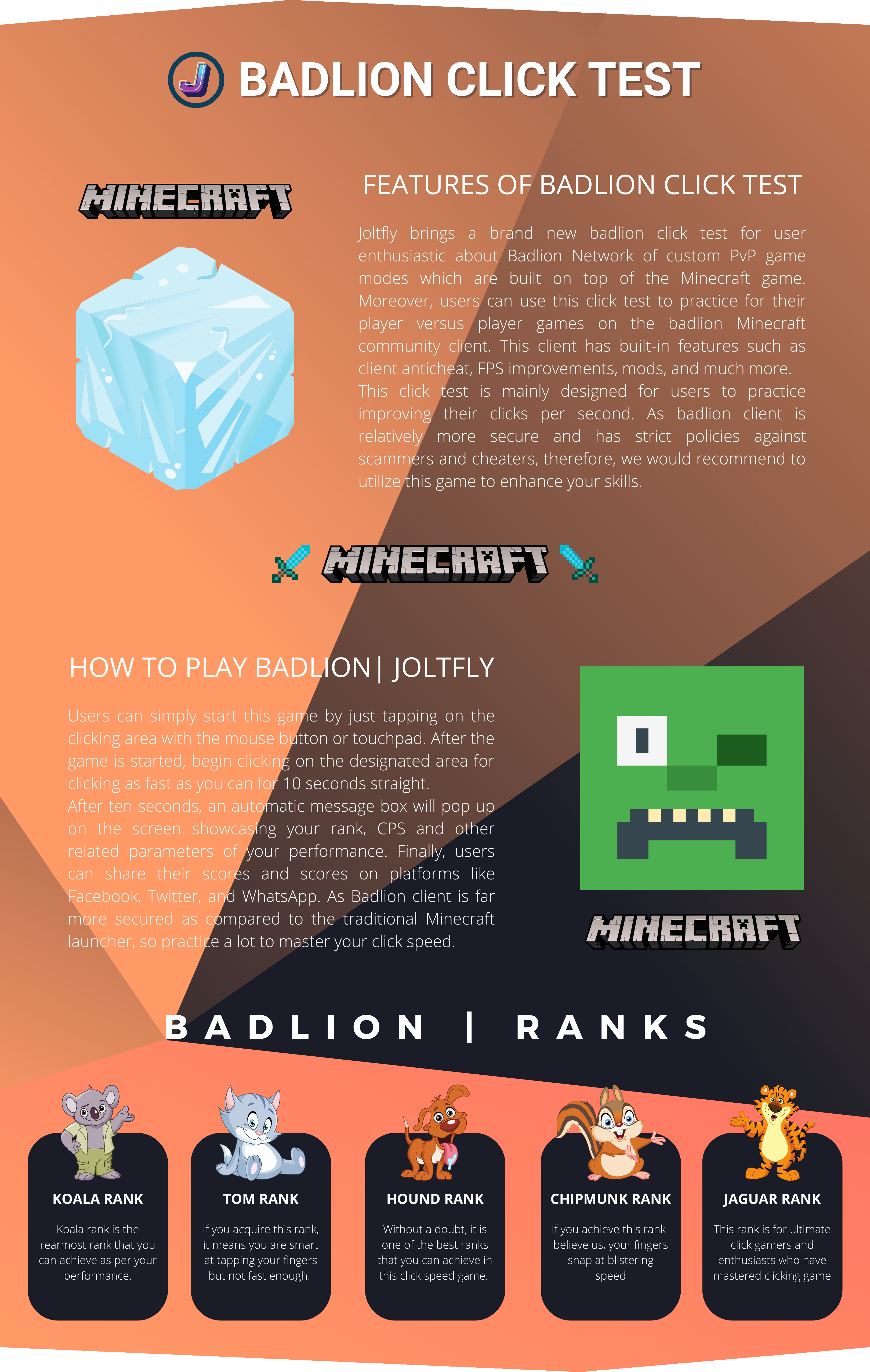 How to Play Badlion Click Game
Users can simply start this game by just tapping on the clicking area with the mouse button or touchpad. After the game is started, begin clicking on the designated area for clicking as fast as you can for 10 seconds straight.
After ten seconds, an automatic message box will pop up on the screen showcasing your rank, CPS and other related parameters of your performance. Finally, users can share their scores and scores on platforms like Facebook, Twitter, and WhatsApp.
FAQs
What is the Badlion Click Test?
It is a unique click test mainly designed for Minecraft gamers to practice increasing their click speed and enhancing their overall CPS score. So, they can eventually dominate in PVP Minecraft.
How to increase CPS in the Badlion Minecraft client?
As the Badlion client is far more secured as compared to the traditional Minecraft launcher, therefore, we would recommend practicing a lot on this badlion click test for higher CPS and avoid going for shortcuts as they can lead you to a permanent ban.