Click Speed Test | Joltfly
Welcome to this ultimate Click Speed Test. So, Challenge your limits to the extreme and explore whether you are worthy enough for a crown of this exclusive CPS Test or not.
Most importantly, this CPS Test has made this simple mouse-clicking game worth trying because of its competitive nature. Apart from this, don't forget to check this Click Counter to practice and count your clicks in infinite time with no particular timer. So, you can ultimately increase your clicking stamina to a new level of excellence.
Clicks Per Second Online CPS Test
First and foremost, if you like to challenge yourself, this CPS Test is just the perfect place to test your click speed in a timeframe.
Besides all this, this game has plenty more to offer, and there are special ranks awaiting you. So, enter in this quick Click Speed Test to witness your deserving rank based on how fast you can tap your fingers.
Desktop Click Speed Test
Without a doubt, our desktop users can definitely take part in this thrilling CPS Test. So, they can enhance their clicking speed with some blistering clicking. 
To play this click speed game on a desktop, all you need is a functional mouse or a touchpad which you can verify on this Mouse Test. Meanwhile, use a gaming mouse for better results.
This game will surely help you enhance your gaming skills to god level, especially in sharpshooting games where a hint of time can give you a competitive edge.
Mobile Click Speed Test
Clearly, how can we forget our mobile or tablet and iPhone or iPad users in this click speed challenge? So, our mobile users can also enjoy this game.
If you are a mobile gamer, this game will not only enhance your mobile gaming skills but can also come in handy as a time killer and fun game to play with your friend's circle in your spare time.
So, give this game a shot if you like to challenge your limits. All you need is a functional device and a pair of warmed-up fingers to enjoy this game.
Do You Want To Be A Minecraft Master?
If so, then Click Speed Test is the perfect game for you! In this game, your goal is to click as fast as possible. The faster you click, the higher your score will be. You can play against friends or other players around the world and see who has the fastest clicking speed!
You can also try different clicking techniques such as 🏆 Double Click Test, 🏆 Triple Click Test, 🏆 Quadruple Click Test, 🏆 Drag Click Test, 🏆 Backwards Drag Click Test, 🏆 Jitter Click Test, 🏆 Bolt Click Test, 🏆 Butterfly Click Test, 🏆 Chainsaw Click Test, 🏆 Derp Click Test, 🏆 Bawl Click Test, 🏆 Flying Bawl Click Test, 🏆 Upside Down Flying Bawl Click Test, 🏆 Kohi Click Test, 🏆 Badlion Click Test, to enhance your Minecraft gaming skills.
Click Speed Test Challenges
The Joltfly brings some tremendous challenges for its thrilled users to test their tapping limits with some blistering clicking.
These challenges are extensions of the Click Speed Test and are principally designed to polish your gaming skills to a superior level so you can play your games with more confidence and self-belief.
Following are the challenges we have carved especially for you.
TikTok Challenges
Particularly you can record your CPS Test progress and share your videos on TikTok and YouTube to take part in our cps TikTok challenge.
Moreover, you can also try your hands on this viral TikTok challenge Spacebar Counter.
Features of Click Speed Test
Users can play this click speed challenge to assess their competitiveness in simple clicking. This speed test is mainly divided into three interactive sections.
The very first section indicates the info about timer clock ticking, your cps, and your overall score. So you can observe your progress while clicking.
Meanwhile, the second interactive section is the core section of this game, where you are actually performing your test by tapping in the dedicated area.
Finally, this game's last section is a surprise popup box that pops up after it is finished. This popup exhibits your live cps score, your overall hits, and a message of joy.
According to Google, people tend to score more on the desktop variant of the site. Let us see if you can prove it wrong.
Ranks Distribution & Score Table
| # | Ranks | CPS Score |
| --- | --- | --- |
| 01 | Cooter Rank | 01 – 05 |
| 02 | Rodent Rank | 06 – 08 |
| 03 | Coney Rank | 09 – 10 |
| 04 | Buffalo Rank | 11 or More |
Ranks Distribution & Score Table Click Speed Test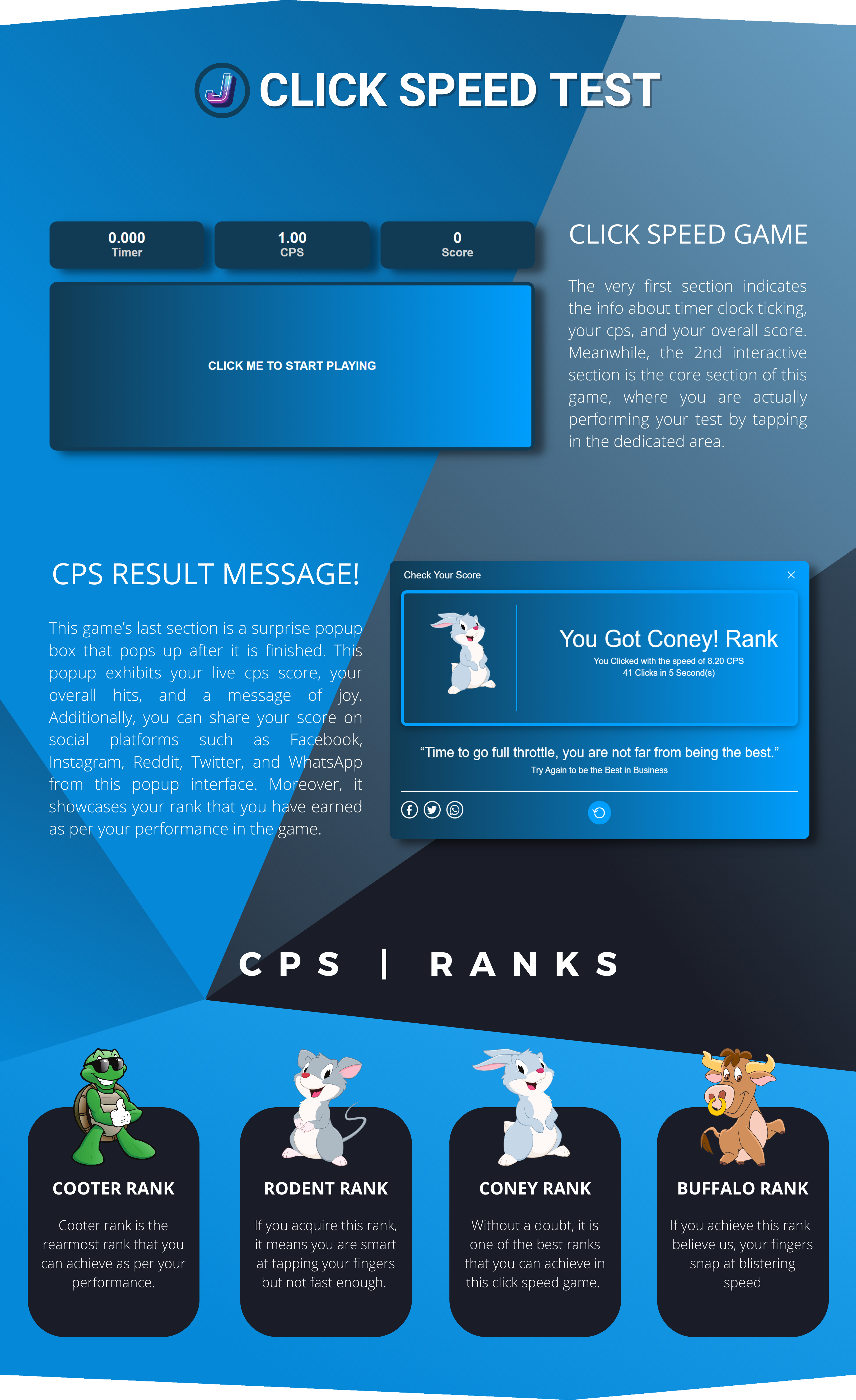 Ranks of Click Speed Test
Here is the list of ranks of correlated zootopia animals that you can achieve after playing the dexter version of this game based on your performances
Cooter Rank
Cooter rank is the rearmost rank that you can achieve as per your performance. If you somehow fall in this rank, you are as stagnant as an octopus, and you need to up your game, don't shy away from working hard. Keep practicing for better results and enhanced accuracy so you can perform better. 
Rodent Rank
If you acquire this rank, it means you are smart at tapping your fingers but not fast enough. So, don't clench your fingers like a python grasp. Try to flicker your finger even faster and try harder to improve your rank. The good thing about this rank is that it indicates that you are not poor at clicking.
Coney Rank
Without a doubt, it is one of the best ranks that you can achieve in this click speed game. If you manage to get this rank, you are already above the average score, and it is probably time to go full throttle. You are not far from being the best. Try again to be the best and get a higher score in this fantastic game.
Buffalo Rank
If you manage to achieve this astonishing rank by fair means, believe us, your fingers snap at blistering speed just like the leopard runs. Hail to the king of clicking. So, share your special rank on Facebook, Twitter & WhatsApp with your friends and ask them if they can dare to beat your click speed record.
Responsive Design
This website's responsive design makes it both desktop and mobile friendly and compatible to be used on either device. Therefore, users from PC, PS4 and MacBooks, iPhones, and Android phones can use this website without any visible hindrance.
Cross-Browser Compatible
All of this website's core functionalities and features are tried and tested on the latest versions of these Internet browsers, including Opera, Safari, Internet Explorer, Google Chrome, Firefox, Mozilla, and Microsoft Edge. So our users can enjoy each feature of this click speed game on either of these browsers.
Top-Notch Performance
We have optimized this website as per the latest standards, so our users can enjoy this game in high-performance mode without any considerable lag or hindrance. Moreover, our users can share their progress on social platforms to keep the competition alive.
Free and Easy to Use
This Click Speed Test is entirely free to use, so there is no requirement to download any fancy applications, APKs, or software as they may contain a harmful virus; you just need to be online to enjoy this spectacular game. So, get your hands on a decent device with an internet connection, and you are good to play this exciting game.
A Brief Demonstration of CPS Test
Regular Updates
We have a dedicated team to look after our user's experience and further enhance the user experience. We regularly update our games and content to stay up to date as per our user's requirements. So, if you are having trouble using our games or want something a certain way, feel free to write us; our team will get in touch asap.
How to Play Click Speed Test
Without a doubt, most of our users would not find it hard playing this game as it is designed while keeping the premium user experience in mind.
Let us discuss its working flow, so most people do not find it difficult playing this cps game.
All you need is a good internet connection, make sure the hardware part of your clicking device is functional, and boom, you are good to play this game.
Firstly, start the game by tapping on the dialog message indicating "CLICK ME TO START PLAYING" and start hitting that dedicated area with your fingers as fast as you can using the left mouse key or touchpad device after the green signal.
So, click and release the mouse key and keep on doing that until the auto timer stops ticking. 
In a while, it will eventually show your results in an automatic pop message as a reaction to your performance after the game is finished.
So, the popup message showcases your rank and overall clicks. Additionally, you can check your cps score here, and most importantly, a message of joy.
Moreover, you can use the social icons in this popup message to instantly share your rank and score with your friends on Facebook, Twitter, and even WhatsApp to flaunt your progress in the CPS Test.
There is no requirement to enter your data or fill long hectic forms while sharing; you can share your score instantly without a lag.
Finally, click the exit button at the right-top corner of the message or the reset button on the center-bottom of the message to replay the game, or you can tap anywhere outside the popup message to replay the game and achieve another milestone.
Note: Suppose you find it hard to access this spectacular time killer game. In that case, it can be due to some blockage or restriction from your school or office ISP(unless this game is down or somehow hacked). You can simply use VPN to bypass the restrictions and play an unblocked version of the Click Speed Test.
FAQs
What is the highest score on the Click Speed Test?
The world record for the highest clicks is 15.4 CPS. Extraordinary isn't taking part in this game to beat this human benchmark(WR) if you got balls.
How to get crowned king in the CPS game?
You need to get more than 10 CPS and buffalo rank in this game in order to be crowned as a CPS king.
How to click faster?
Avoid applying too much pressure on your fingers. Stay gentle with your fingers, vibrate your clicking hand, and then transfer that vibration towards your fingers to get the fastest clicks per second. It will eventually come in handy while playing games like Minecraft. Sometimes purchasing a new mouse can increase your clicking speed.
How to test how fast you click?
Play this speed test game, and your cps in the game will indicate how fast you can click. Besides using click bots or other mouse-clicking software, we recommend enhancing your gaming skill while practicing here on this cps game to become the best player in Minecraft PVP.