Mouse Test | Joltfly
Joltfly brings an ultimate Mouse Test program for its users. So, now you can test the left and the right button of your mouse, mouse scroll, mouse middle button, and the complementary buttons of the gaming mouse.
It is an ultimate test for your mouse device to check if it is working correctly or not. Unlike other mouse quality tests available online, this mouse efficiency test simply focuses on the core mouse functionalities and tests them for you to check the status of your device.
Mouse Test Online Tool
Most importantly, users can test the accuracy of their mouse without downloading any fancy software or application online on any browser using the internet.
Moreover, users can use this test to check their Laptop or Macbook mouse's status, whether it is working or not.
Meanwhile, use this Mouse Drag Test to check if you can drag stuff around using your mouse device or touchpads, and try this Mouse Double Click Test if your mouse is registering abnormal or auto double clicks.
Mouse Buttons Test
First of all, users can test their left mouse button and right mouse button using this program to check if they are working properly. You can also try this CPS Test for clicking speed. 
For this purpose, bring your cursor inside the mouse model and tap on each left and right mouse button, respectively.
If both of these buttons light up in the mouse model, then congratulations, your mouse's left, and right buttons are functioning fine.
While the left mouse button is used for direct tasks such as selecting an object or performing actions on CTAs. Meanwhile, the right mouse is used to perform indirect jobs such as opening contextual or pop menus.
Mouse Middle Button Test
Moreover, our users on this website can use this fantastic tool to test the middle button of their mouse device. These buttons are often incorporated in scrollers if not installed separately.
In order to test the middle button of your mice, navigate your cursor inside the mouse model on this page and hit the center button.
If the model mouse's scroller light up, then your mouse's middle button is working fine. Meanwhile, this button is traditionally used to scroll through a webpage.
Moreover, users can use this button to open and close the tabs on their browsers while surfing the internet.
Mouse Scroll Wheel Test
Subsequently, our delighted users of this website can check if their mouse's scroll wheel is working correctly or not using this fantastic program online without any considerable hassle.
Well, you can test your mouse or touchpad's scrolling via this Scroll Speed Test.
So, navigate your cursor inside the mice model on this webpage and scroll up and down. If the up and down arrows light up, then your scroll wheel or touchpad is working fine.
Meanwhile, the scrolling wheel is used to quickly scroll up or down through a webpage or list documents without using the scroll bar, which is usually placed on the right side of the page.
Mouse Side Buttons Test
This online tool allows users to check their gaming mouse's side buttons, usually used to go forward and backward in games.
So, in order to test these extra buttons, which are often included in recent mouses, navigate inside the mouse model on this webpage and click these buttons. If the side buttons on the model mouse light up, then these buttons on your mouse device are working properly.
Meanwhile, For the best gaming performance, test your mouse on Mouse Latency Test, ensure it has a minimal lag, and optimize its polling rate after testing it through Mouse Polling Rate Test.
Are You Looking For A Way To Test Your Mouse?
Joltfly offers the ultimate Mouse Test program that allows users to measure their performance in FPS games.
Moreover, you can monitor the acceleration and other useful metrics of your mouse via this Mouse Acceleration Test.
It's designed to help gamers find out if they have any issues with their current mice, and it also provides them with valuable information about how they can improve their skills.
This online software is completely free of charge, so there are no hidden fees or costs involved.
We know that our users want accurate results when testing their mice, which is why we provide them with an easy-to-use interface that doesn't require any special knowledge or training.
Features of this Test
This simple yet effective mice test is helpful to check if the core functionalities of the mouse are working correctly or not.
This test comes in handy to test the functionalities of a wired or wireless mouse online without any hassle of downloading mobile applications and software.
Moreover, this tool is cross-browser compatible so, users can use this webpage to test their mouse or touchpad device using any latest web browsers.
Users can use this online test to check the functionality of their mouse device and their laptop's touchpad as well on Macbooks Windows and Ubuntu irrespective of the operating system.
This web tool's responsive design makes it possible to test external mobile hardware such as gaming mice or controllers using this free tool on mobile devices.
This tool's simple and straightforward UI makes it easy for users from any background to test their mouse or touchpad device without any extra effort.
Users can use this program to test the mice of different brands such as Logitech mouse, Zowie mouse, and Redragon mouse.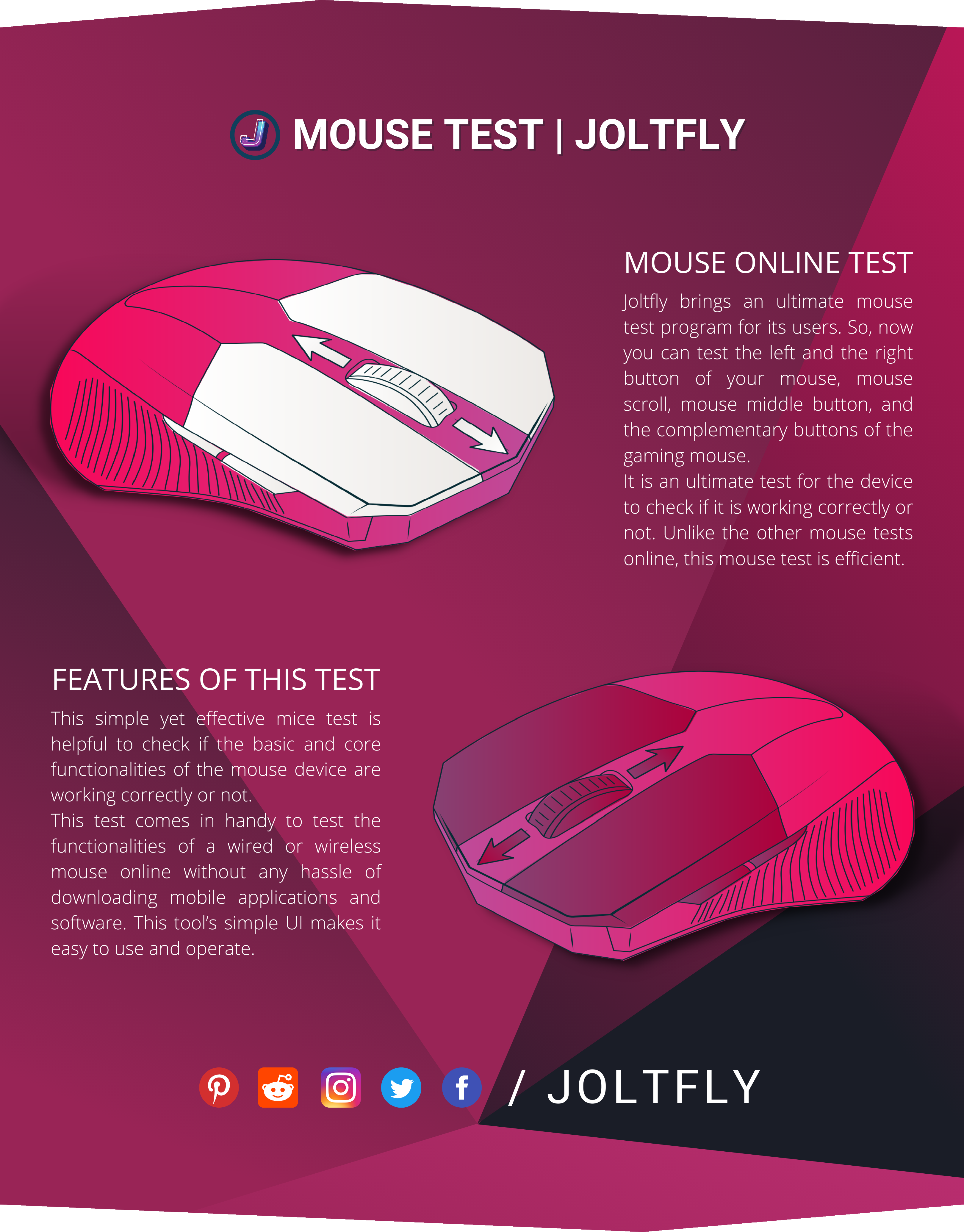 How To Use Mouse Test
The simple and to-the-point design of this web tool makes it easier for anyone to operate it.
Yet, for the ease of our users, let's walk through the functioning of this amazing mouse or touchpad test.
First of all, navigate to this test on Joltfly through any of the latest browsers using the internet. Afterward, steer your cursor inside the mouse model on this web tool.
Now, start testing each of the mouse functionalities one by one. Firstly, test the left and the right mouse button of your mice or touchpad.
Secondly, test the scroll wheel of your mouse or touchpad using gestures.
Furthermore, click on the middle button of the mouse at the center of it, or if there is no middle button, click on the scroll wheel to check if the middle button is working correctly.
Finally, click on the side mouse buttons usually present in gaming mice to check if they are functional.
If the corresponding buttons on the mouse model light up while checking, then your mouse or touchpad device is error-free and suitable to perform mouse functions with precision.
FAQs
What is mouse drift?
Mouse drifting is a phenomenon in which your cursor starts moving by itself even when the mouse is still. It can be caused by faulty hardware so, try cleaning your mouse, and if it is wired, try re-plugging it after proper cleaning. Moreover, keep your drivers up to date to avoid such inconvenience.
What is mouse debounce?
Mouse debounce time helps to avoid double-clicking the mouse button by adding a delay in between successive mouse clicks, so this latency helps in click smoothness, ultimately avoiding double click.
What is mouse input lag, and how to avoid it?
Mouse input lag is the delay between your device's request and the system's response. You can test it with a Mouse Latency Test. Wireless devices tend to have more mouse input lag than wired devices. To avoid mouse input lag, keep your drivers up to date and use high-quality devices.