Clicks Per Hundred Seconds | Challenge
Only hardcore and adventurous gamers will dare to accept this Clicks Per Hundred Seconds Challenge as it requires a lot of focus and a consistent approach. So don't waste your time and take this challenge to the extreme level right now while showing the universe your nerves of steel.
Keep in mind that this challenge is extremely demanding, and only daredevils can dare to accept this challenge. So, jump into this challenge at your own risk. Meanwhile, if you are a newbie, stay consistent in your approach to this challenge and try to stay calm while clicking as the time constraint is very demanding. Besides this, try other particular click challenges as well.
Hundred Seconds Click Speed Challenge
The game is based on the popular Click Speed Test mechanics and requires the player to get as many points as possible. The game has a soft and vibrant color palette, and simple graphics, and is easy to play as well.
The goal of the game is to keep clicking and earn exciting ranks. This game requires a lot of concentration and skills in order to complete the challenge. The only thing that you need to do is click on the target area maximum amount of time within the time limit.
Features Of Hundred Seconds Click Speed Challenge
The game is very simple to play on the web at any time and any place. All you need to do is go to the website select the challenge that you want to play and then click on the game screen. The game will begin with a timer.
The objective of the game is to be able to keep clicking with your mouse as many times as possible while the time runs out. As soon as you start clicking, you will see your results appearing in points.
The game offers the player to compete with players from all over the world. Players can unlock achievements while they play and win ranks. The game also allows players to challenge their friends and share the results on Facebook. The game is easy, fast, and fun to play. It's definitely worth a shot!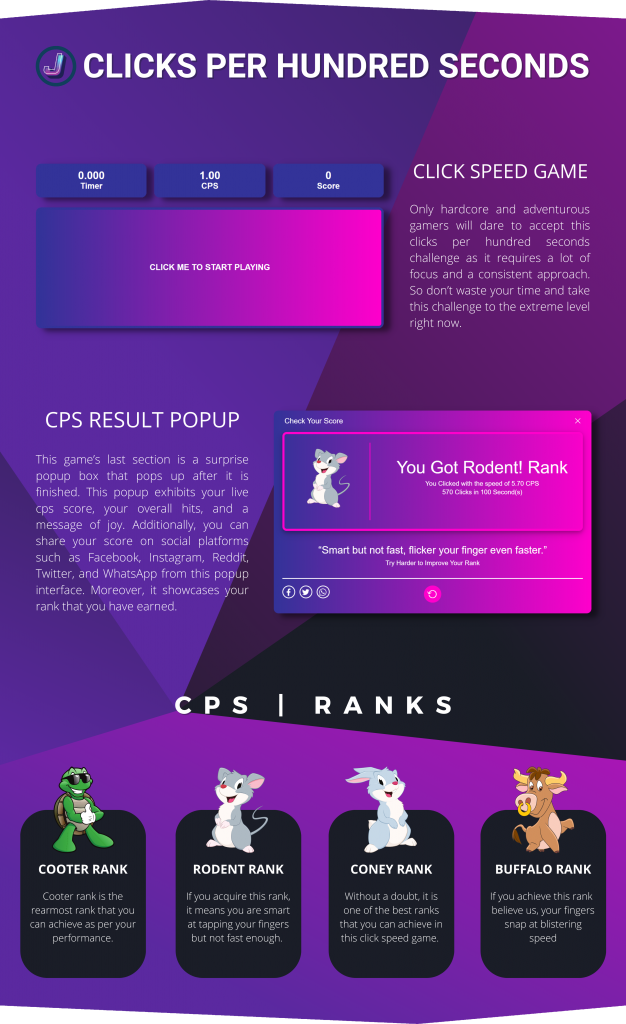 Did you know that this challenge's top score is 702 Clicks in 1 minute, making it 11.7 clicks per second. We believe you can break this record if you maintain a disciplined approach.