Clicks Per Five Seconds | Challenge
You can now test your clicking limits on this exclusive challenge with a strict time limit on Joltfly. Get started today with the Clicks Per Five Seconds Challenge. We wish you every success. 
Make full use of this game in order to enhance your gaming skills. If you do your best in this game, you will eventually see fine results in real-time gaming. Make sure you share your scores with your friends. You can also try other challenges we have available at the moment.  
Five Seconds Click Speed Challenge
Greetings, everyone! It is our pleasure to announce the start of a new challenge in which you will have to make the most of your abilities. The name of this challenge is "Clicks per 5 seconds", and it is available for everyone on Joltfly. 
There is a time limit, so make sure you use it properly and don't waste any time. The challenge will be online from now onwards for everyone, so make full use of this challenge and enjoy it as much as you can. Good luck and have fun!
Features Of Five Seconds Click Speed Challenge
You can also play other interesting challenges we've prepared for you today. If you want to improve your gaming skills, you should definitely take advantage of them. If you manage to do this, we can guarantee that you will achieve great results in real-time gaming activities and your friends will appreciate it as well.
The main objective of this challenge is to play it as fast as possible. It is all about speed so that you can reach the highest levels. There are many games that require a lot of skills, but games on Joltfly are not one of them. Even little kids and old people can play this game and challenge their friends.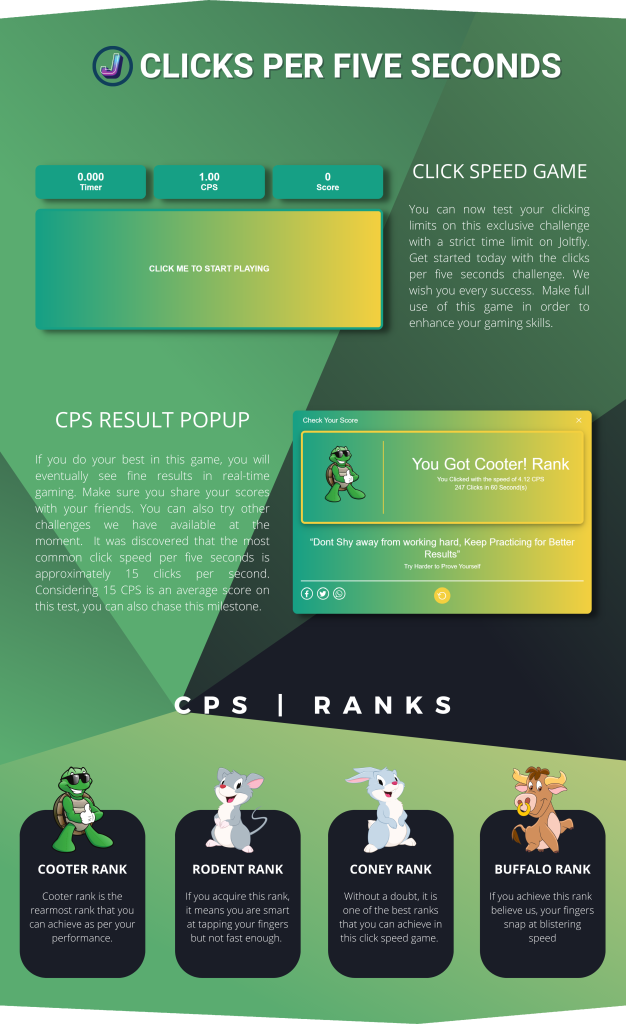 It was discovered that the most common click speed per five seconds is approximately 15 clicks per second. Considering 15 CPS is an average score on this test, you can also try achieving this milestone.