Whether you're a gamer, typist, coder, or casual user, our tool lets you count the number of keystrokes on any keyboard and displays the last key you pressed.
Track Your Keyboard Keys Pressing Online
Keyboard Keys Counter is the perfect tool to track your keyboard key-pressing activity. 
You can enhance your key-pressing skills, productivity, and daily goal setting with real-time keystroke counting, time tracking, and privacy features.
Try it out today and see the difference!
What is a Keyboard Keys Counter?
It is a free and simple online tool that accurately tracks and counts your keystrokes. 
It works with any keyboard, mechanical to gaming, from PC to Mac. You don't need to download or register to use it. 
Visit our website and press keys to see real-time data on your keystrokes. Plus, it shows you the last key you pressed below the counter for added convenience.
Why Use Keyboard Keys Counter?
It is a versatile and free online tool that can help you improve your keys pressing skills and productivity.
Here's what makes it a great option:
By tracking your keys pressing activity, you can easily identify areas where you can improve and focus on your strengths.
This is especially useful for writers, bloggers, and programmers who want to set daily goals and improve keys pressing speed.
This tool also comes with several other benefits, including the ability to play keyboard games with friends.
It's a fun way to challenge yourself and others while improving your typing skills.
Additionally, this tool offers real-time tracking features, which makes it an essential tool for those who want to boost their productivity.
You can see exactly how many keys pressing you are doing and adjust your workflow accordingly.
And if you're concerned about privacy, you'll be happy to know that all data is processed locally on your device.
Your information is never shared with third parties, so you can confidently use this tool.
Overall, it is a handy tool perfect for anyone who wants to improve their keys pressing and productivity. Give it a try today and see how many keys you can press!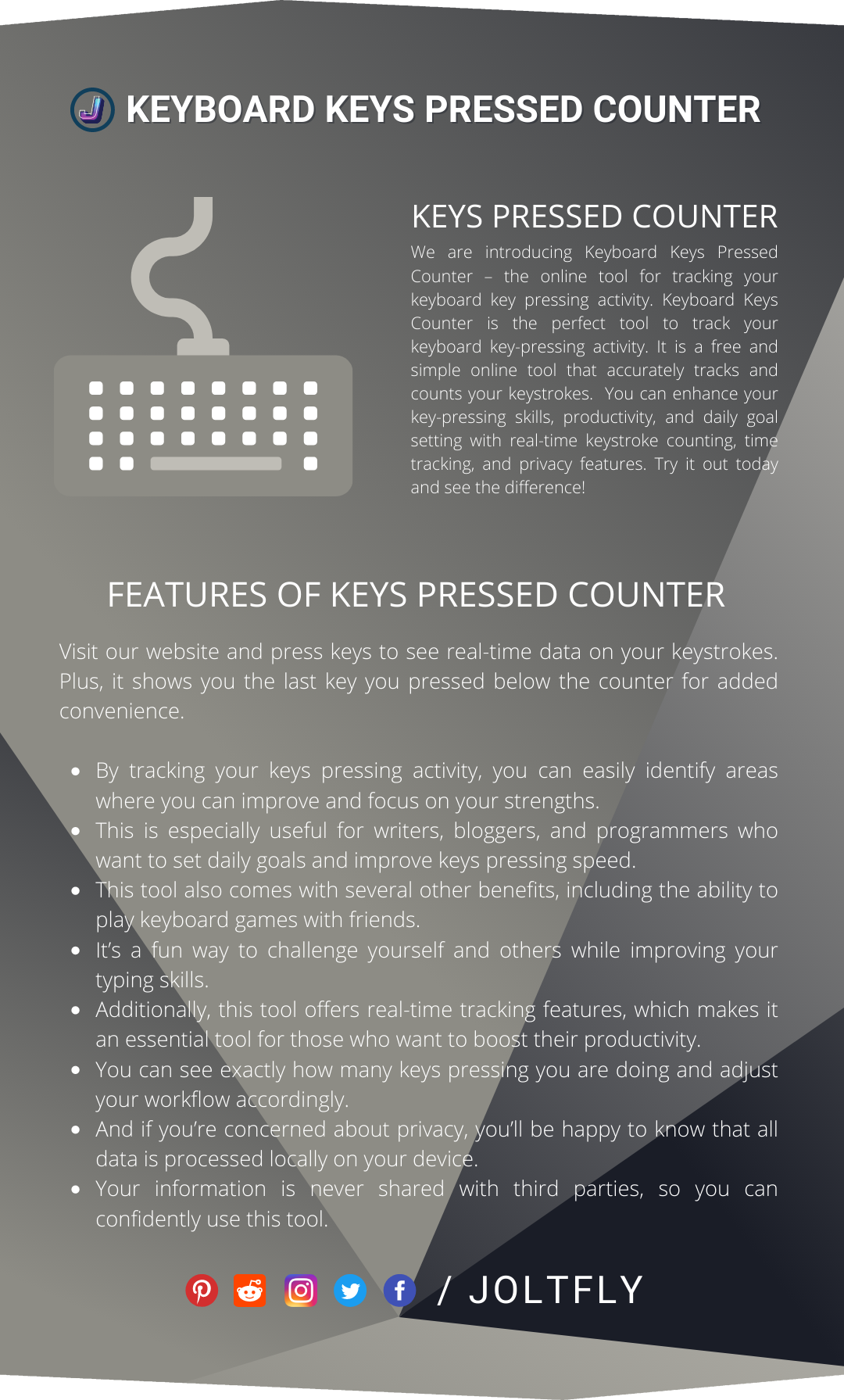 How to Use This Counter?
Counting your keystrokes with this counter is a breeze.
Head to our website and select Keyboard Keys Pressed Counter.
The counter will display on your screen along with a key-pressed indicator.
Click on the playground to start testing your keyboard keys pressing speed.
Tap on any key on your keyboard, and the counter will increase by one for every key press, showing you the last key you pressed.
You can also observe your HPS score and the timer while using this online test.
To reset the counter, click on the reset button "⟲" and carry on the key pressing.
FAQs
Does this keyboard keys press counter work with all keyboards?
The keyboard keys pressed counter is compatible with all keyboards, including PC, laptop, Mac, mechanical, wireless, and gaming. Although, the tool may not count some special keys used for keyboard shortcuts.
What are some fun ways to use a keyboard keys pressed counter?
You can use this keyboard keys counter for fun activities, including challenging friends or yourself to see who can press the most keys within a given timeframe. You can also improve your typing skills by typing random words or sentences. Playing games with friends requiring quick and accurate key pressing can be enjoyable.