Mouse Sensitivity Converter
Say goodbye to inconsistent mouse sensitivity across games, and improve your accuracy while maintaining muscle memory with the Mouse Sensitivity Converter.
| cm/360° | inches/360° | Converted Sensitivity |
| --- | --- | --- |
| 00 | 00 | 00 |
Now you can seamlessly transfer sensitivity settings and take your gaming experience to the next level. Opt for this most advanced sensitivity converter and elevate your gameplay.
Online Mouse Sensitivity Converter
Say goodbye to inconsistent mouse sensitivity across multiple games with this converter.
This user-friendly tool lets you convert your mouse sensitivity to over 70 popular games with just a few clicks. 
Maintain muscle memory and optimize your aim and accuracy, whether you're a casual or competitive gamer.
Elevate your gaming experience today and try this game-changing tool for free.
What is Mouse Sensitivity Converter?
It is an online tool that lets you enhance your gaming performance effortlessly.
This free online tool supports 70+ popular games, such as CS: GO, Fortnite, Valorant, Apex Legends, and Overwatch. 
It lets you easily customize your mouse DPI, sensitivity, and other movement factors to find the perfect setting for your preferences and playstyle.
So, save time and avoid manual calculations while keeping your muscle memory intact.
Features of Mouse Sensitivity Converter
Introducing Mouse Sensitivity Converter – the ultimate tool for gamers who want to improve their accuracy and precision. Here's why you should try it:
Say goodbye to frustrating sensitivity adjustments between games.
Our tool ensures accurate conversions with precise formulas and regular updates based on user feedback.
Stay ahead of the competition with consistent sensitivity settings across hundreds of popular games.
Customize your DPI and in-game sensitivity for games like Apex Legends and VALORANT.
Our advanced algorithms and precise calculations guarantee reliable and accurate results for all gamers.
Don't let inconsistent mouse sensitivity hold you back any longer. Try Mouse Sensitivity Converter today, experience the difference yourself, and say hello to hassle-free gaming and better performance.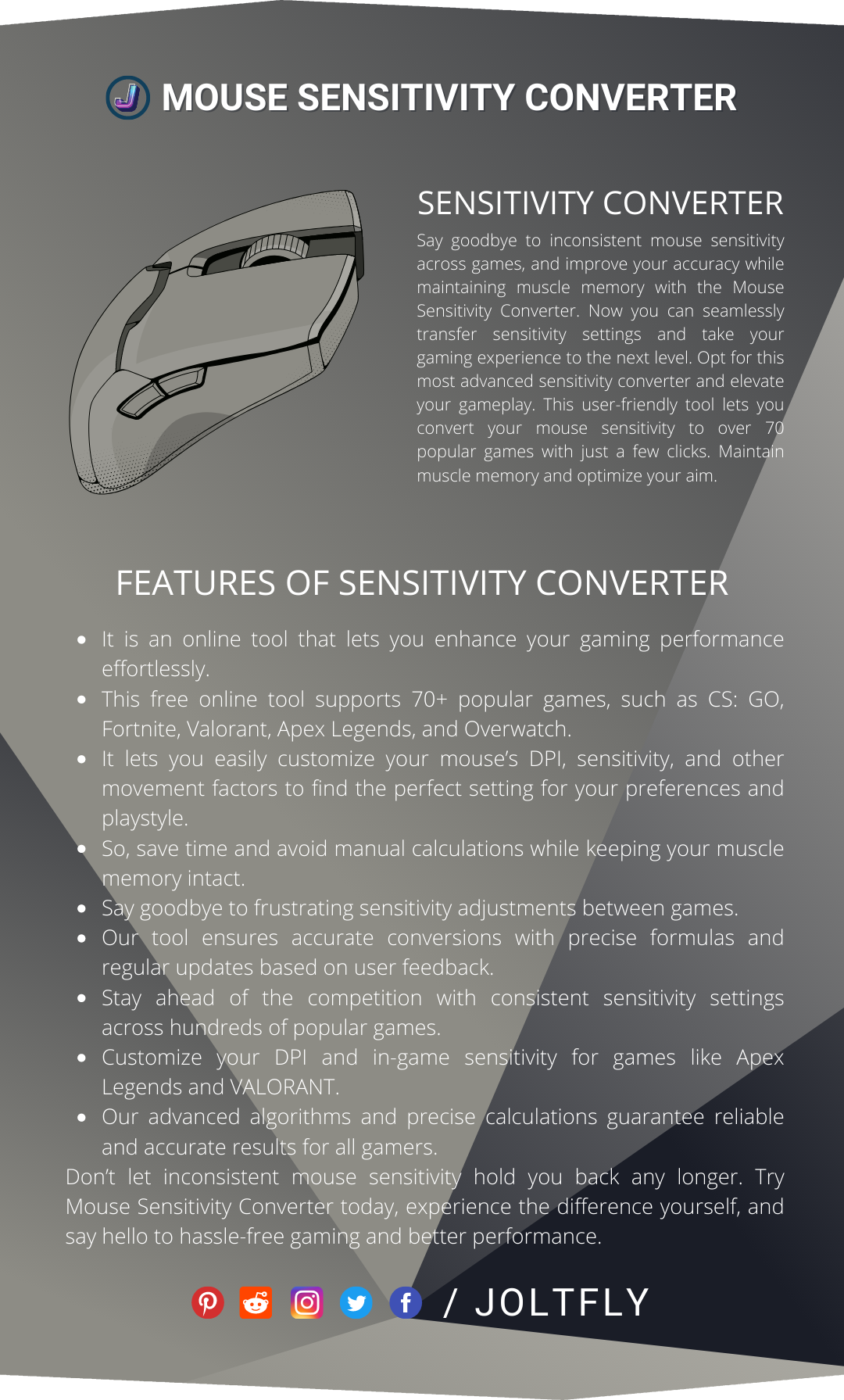 How to Use this Converter Online?
Easily convert your mouse sensitivity settings for different games with the Mouse Sensitivity Converter.
Choose your current game, input your sensitivity and desired game, and add DPI.
Get a new sensitivity value that provides consistency across multiple games, including inches and cm per 360.
The tool is ideal for any gamer, from hardcore to casual, looking to enhance their gameplay experience.
Mouse Sensitivity Converter Supported Games
| | |
| --- | --- |
| CS:GO | 1v1.LOL |
| 7 Days to Die | Aim Gods |
| Aim Lab | Aiming Pro |
| Aimtastic | Arma 3 |
| Apex Legends | Zula |
| Battalion 1944 | Battlefield V/1/Hardline |
| Black Squad | Borderlands 1/2 |
| Borderlands 3 | Call of Duty: Black Ops 4 |
| Call of Duty: Black Ops Cold War | Call of Duty: Modern Warfare |
| Call of Duty: Warzone | Call of Duty: WWII |
| Creative Destruction | CS 1.6 |
| Cyberpunk 2077 | Darwin Project |
| Destiny 2 | Doom Eternal |
| Dying Light | DayZ |
| Deep Rock Galactic | Escape from Tarkov |
| Fallout 4 | Far Cry 3 |
| Far Cry 4 | Far Cry 5 |
| Far Cry Primal | Fortnite |
| Garry's Mod | Gears 5 |
| Halo | Heroes & Generals |
| Hunt: Showdown | Hyperscape |
| Insurgency | Insurgency: Sandstorm |
| Ironsight | Krunker |
| Line of Sight | Minecraft Java Edition |
| Overwatch | Paladins |
| Payday 2 | PUBG |
| Quake Live | Realm Royale |
| Ring of Elysium | Roblox |
| Rogue Company | Rust |
| Splitgate | Squad |
| Team Fortress 2 | Titanfall 2 |
| Tom Clancy's Rainbow 6: Siege | Tom Clancy's The Division 2 |
| Unturned | Valheim |
| Valorant | Warface |
| Warframe | |
Supported Games
FAQs
What is Mouse Sensitivity?
Mouse sensitivity determines how fast or slow your mouse cursor moves on the screen. It's measured in numerical values or percentages, with higher sensitivity resulting in speedier cursor movement and lower sensitivity resulting in slower cursor movement.
Why is mouse sensitivity important for gaming?
Mouse sensitivity is crucial in gaming as it directly impacts your aim, accuracy, and reaction time. The ideal sensitivity level may vary depending on the genre, mechanics, and individual preferences of different games. For instance, FPS games require higher sensitivity for swift aiming and flicking, whereas RTS games need lower sensitivity for accurate clicking and dragging.
How can I find my current mouse sensitivity?
Check your mouse sensitivity in games by adjusting the sensitivity value in the game's settings or console. You can also use third-party tools like the Mouse Sensitivity Converter to measure your 360 or monitor distance. 360 distance measures the mouse movement for a full 360-degree rotation. You can also use this tool and enter your DPI and other necessary details to get an update on your current game sensitivity.
How can I change my mouse sensitivity?
Adjust mouse sensitivity in-game or through mouse software. Modify DPI to change the number of pixels your mouse moves per inch. Be aware that altering sensitivity may affect muscle memory and performance in other games. Use a Mouse Sensitivity Converter to maintain consistent sensitivity across all games.