Triple Click Test | Joltfly
Now you guys can use this exciting Triple Click Test to practice and eventually master the triple clicking that can help you become better at mouse clicking.
If you want to master the triple clicking, then you've got to practice! That's why we have made this exciting online game for you to make it happen.
Triple Click Online Test
Triple clicking is a skill that many people, particularly in the Minecraft community, desire to master. The fact that you can register three or more mouse clicks quickly by triple clicking makes it worthwhile to learn.
In order to triple click, you need to have a good mouse and a good surface to click on. If you have both of these things, you are ready, to begin with, triple clicking.
Meanwhile, It takes time and patience to learn triple clicking properly, but once mastered, it can be advantageous while playing Minecraft online with friends.
What Is the Triple Clicking Method?
Triple clicking is almost similar to double clicking, and quadruple clicking, but just a little different to execute. The prerequisite condition for tipple clicking is the same as double clicking, i.e., your mouse should have mechanical switches, and its debounce time should be less than 10ms. If your mouse meets the mentioned conditions, you can get started with triple clicking.
Features of Triple Click Test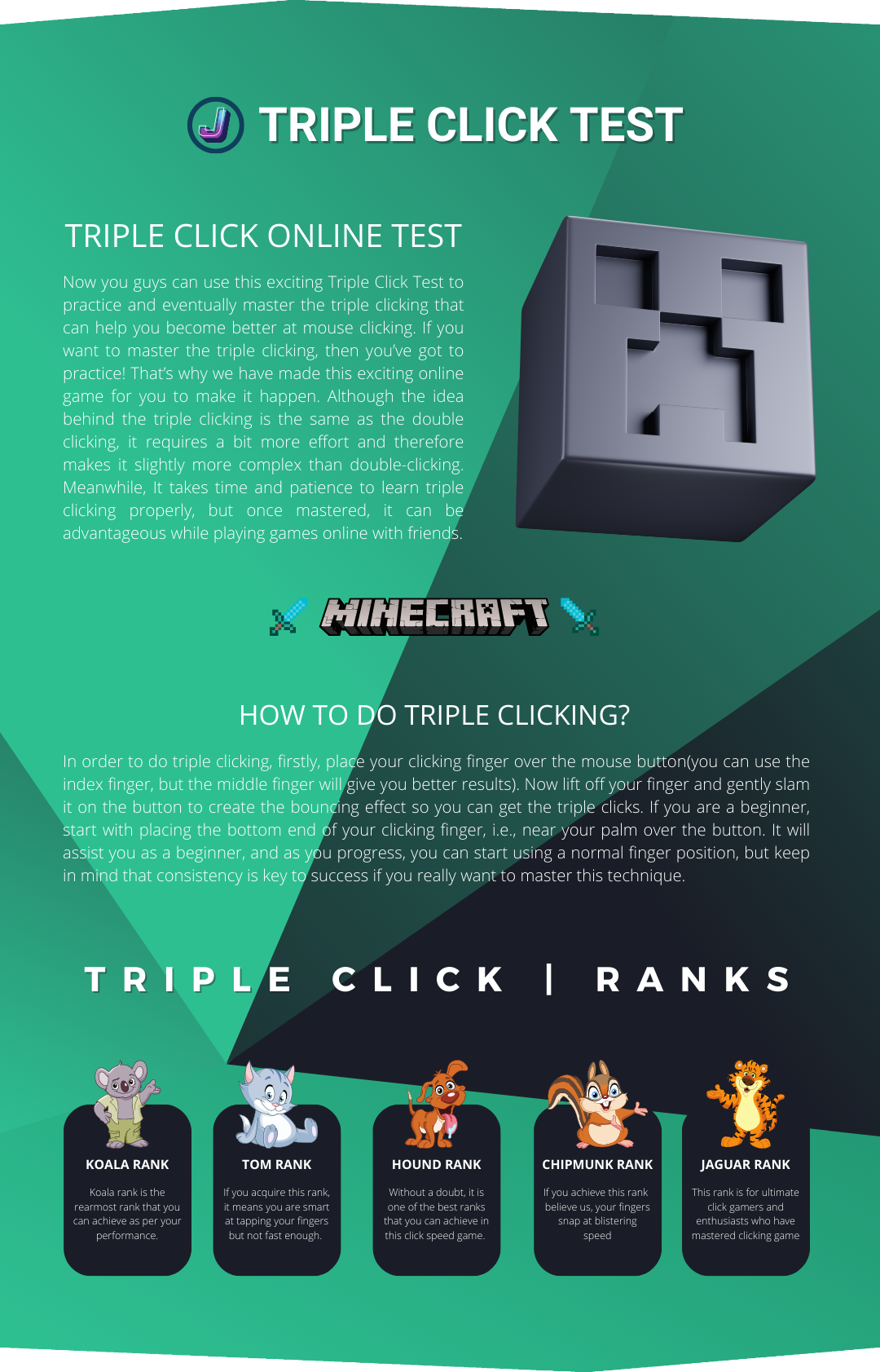 How to Do Triple Clicking?
In order to do triple clicking, firstly, place your clicking finger over the mouse button(you can use the index finger, but the middle finger will give you better results).
Now lift off your finger and gently slam it on the button to create the bouncing effect so you can get the triple clicks.
If you are a beginner, start with placing the bottom end of your clicking finger, i.e., near your palm over the button.
It will assist you as a beginner, and as you progress, you can start using a normal finger position, but keep in mind that consistency is key to success if you really want to master this technique.
Is triple clicking allowed in Minecraft servers?
As long as you do not abuse any external software, triple clicking is allowed on Minecraft servers. It is possible to generate triple clicks by clicking your mouse, and you can use it in your best interest.
Is triple clicking more difficult than double clicking?
Although the idea behind triple clicking is the same as double clicking, it requires a bit more effort and therefore makes it slightly more complex than double clicking.