Most Importantly, there is a high-time opportunity for you in this challenge. Firstly, you can increase your clicking speed to enhance your performance in other challenges where the time limit is not that tight.
Moreover, this challenge will boost your confidence for the next challenges where achieving higher ranks can be difficult. So, give a shot to other challenges as well.
One Second Click Speed Challenge
Starting today, you can participate in this amazing competition 24/7. It's as simple as clicking fast and winning this challenge; this is how you become a clicking hero. So much fun and excitement await you! Bring your clicking skills to this challenging test and show us what you're made of.
Get into the top list of players by challenging yourself and competing with your friends. The Clicks Per One Second is designed for people who want to demonstrate their skill of clicking as many times as possible in a single second.
Features Of One Second Click Speed Challenge
You've got only one second to beat the world record so you have to be as fast as possible. . Do you have what it takes? This is a great Clicks Per One Second Challenge for everyone. Logic and action come together in this game, which anyone – gamer or not – will enjoy regardless of their skill level.
Besides being fun, this free online skill game also has a very useful educational goal. So, it helps improve your reaction time, strengthen your attention span, and teach you how to manage your emotions in stressful situations. You can prove that you are a real clicker by joining this online challenge right now!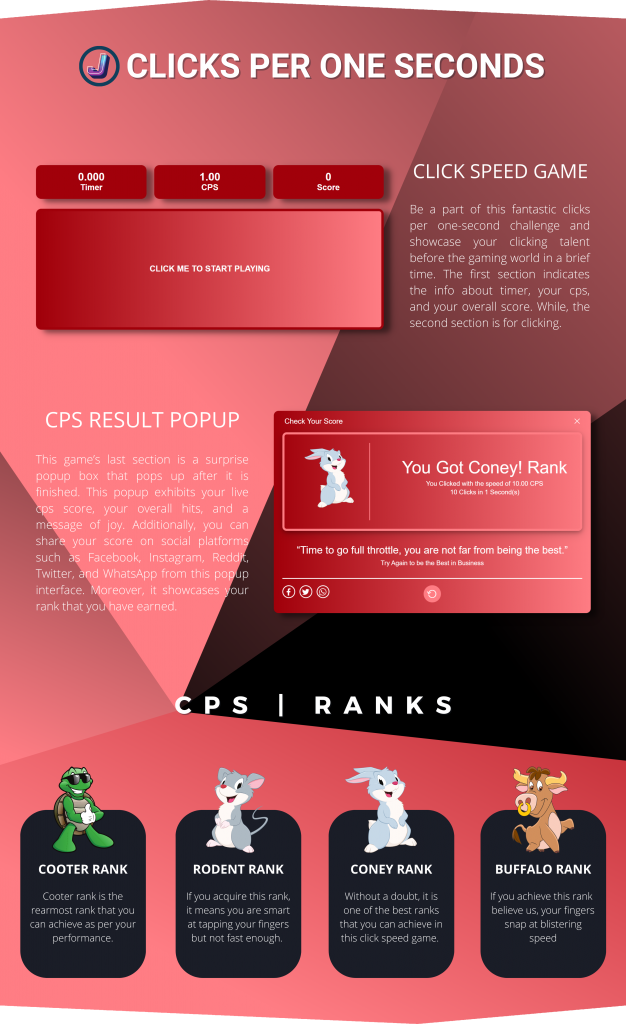 Nonetheless, Do you know that the highest score recorded on click speed per one-second challenge is 17 clicks, which makes it 17 CPS. So, isn't it amazing? Try your luck at beating this record.