Clicks Per Ten Seconds | Challenge
Joltfly is now offering an exclusive challenge with a strict time constraint to test your clicking limits. Get your hands on this Clicks Per Ten Seconds Challenge right now. We wish you Good Luck!.
Particularly, you guys can utilize this game to take your gaming skills to god level. So, go full throttle on this game, and the fine results will follow eventually in real-time gaming. Also, share your scores on social media with your friends. Moreover, try other challenges we are offering right now.
Ten Seconds Click Speed Challenge
Joltfly has been a trusted name in the gaming community for quite some time now. The platform has been around since 2021 and they have managed to earn a place in the hearts of many gamers with its exciting trainer games and relevant tests.
To date, Joltfly has remained an authority when it comes to offering top-notch trainer game options online. Joltfly's portfolio includes plenty of trainer games, most of them being exclusive titles and each one of them is entertaining.
In addition, you can sharpen your gaming skills and elevate your ranks in competitive gaming by taking part in this valuable Clicks Per Ten Seconds Challenge.
Features Of Ten Seconds Click Speed Challenge
Joltfly is going to make you click like a madman! This is the ultimate test of your abilities. Your goal is to get as many Clicks Per Ten Seconds as possible. With the timer ticking, it's now up to you to prove that you are the best and most accurate clicker of them all. Have fun!
There is an exclusive opportunity for our users to test their clicking abilities on this exclusive challenge called "Clicks per 10 seconds". The best part is that you can earn exciting ranks by completing this challenge successfully!
So what are you waiting for? Get your hands on this Clicks Per Ten Seconds Challenge right now.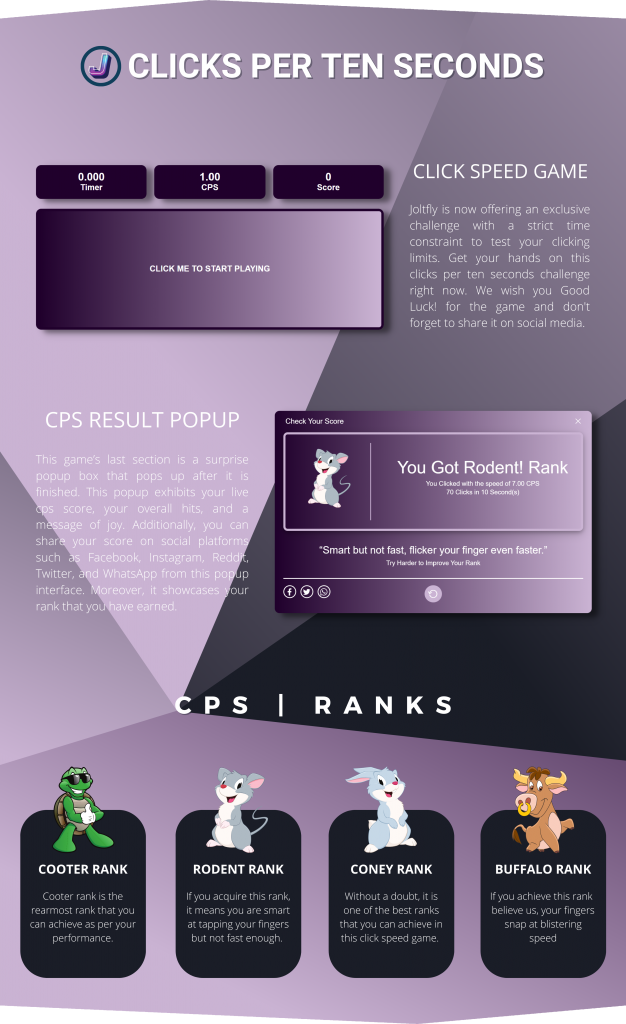 Did you know that the top clicks recorded on click speed per ten-second challenge is 145 clicks, making it 14.5 CPS? Try your kismet replacing this top scorer.