Clicks Per Sixty Seconds | Challenge
Joltfly is offering one of the craziest Clicks Per Sixty Seconds Challenge for its users to test how consistent they are with tapping their fingers on the mouse or touchpads. Anybody can master this challenge all you need is a lot of practice and a consistent approach.
Without a doubt, this challenge is one of the most demanding clicking challenges we have ever offered on Joltfly. So, stay consistent in your approach to this challenge and try to stay calm while clicking as the time constraint is not that tight. Besides this, try other particular click challenges as well.
Sixty Seconds Click Speed Challenge
The challenge is most suitable for those who enjoy playing games with a high level of difficulty. Additionally, it is suitable for adults as well as teenagers because it does not have an age restriction. 
It is important to keep your finger clicking on the mouse or touchpad as consistently as possible. When you are trying to build up your muscle memory for this technique, it is best to do the challenge in the first few days of using Joltfly.
Features Of Sixty Seconds Click Speed Challenge
There are many ways to increase your clicking speed, but most of them require advanced knowledge of technology. Because of its sleek design, anyone with any background can enjoy and master this exciting challenge.
Moreover, this challenge can help you build up your mouse muscles. It is an action game designed for people who love challenges. 
In addition, this challenge helps you increase your productivity by training your brain and boosting your reaction time. This is ideal for anyone who needs to improve their attention span, specially gamers.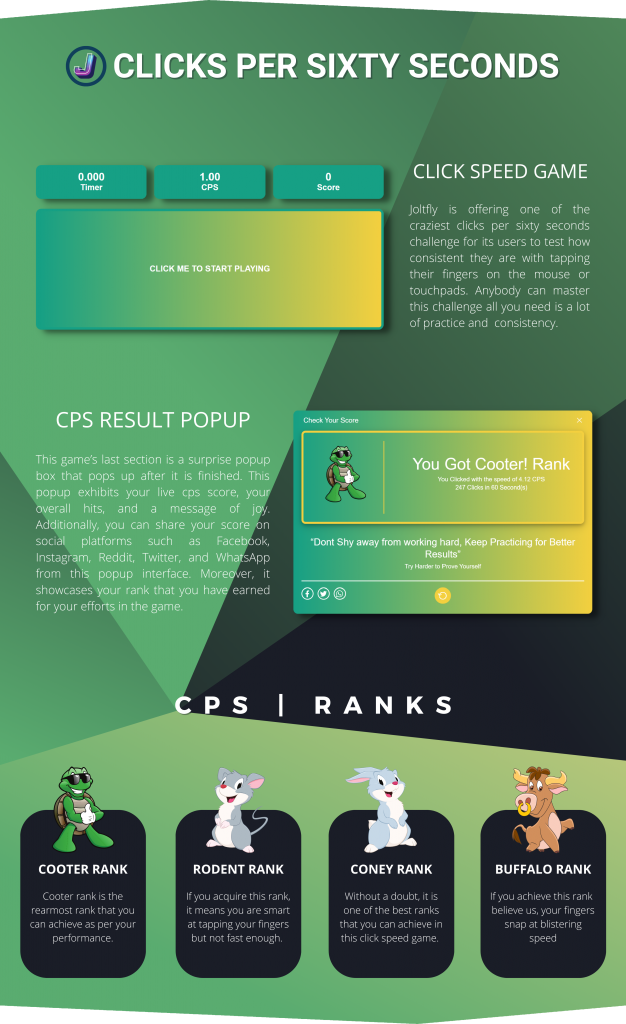 Did you know that this challenge's top score is 702 Clicks in 1 minute, making it 11.7 clicks per second. We believe you can break this record if you maintain a disciplined approach.