Double Click Test | Joltfly
Welcome to this Double Click Test specially designed for Minecraft enthusiasts so they can test and practice their skills of double clicking. Simply click on the button below, to begin with, the test.
This game aims to improve your double-clicking skills. With each session you play, you will get faster at clicking and your score will increase. It's a good way to enhance your speed and accuracy.
If you're bold enough then don't forget to give these tests a go: the Triple Click Test and the Quadruple Click Test to take your skills to the next level of greatness.
Double Click Online Test
Double clicking is a simple and easy skill to learn, but it can be tricky for some people to master.
If you have trouble with double clicking, then this game will help you improve your double clicking skills. It will help you become a better Minecraft player.
This is a great place to start learning double clicking. You can quickly get a feel for how much easy it is to master this skill.
If you find double clicking too difficult, just keep trying out different methods of your own to find the ones that work best for you. As you continue, you'll be able to learn a lot about this fantastic clicking method.
What Is the Double Clicking Method?
The double clicking method is one of the clicking methods introduced by the Minecraft gaming community. This clicking method is used to register the instant double mouse clicks against a single mouse click to obtain a competitive advantage, especially in the Minecraft game.
Features of Double Click Test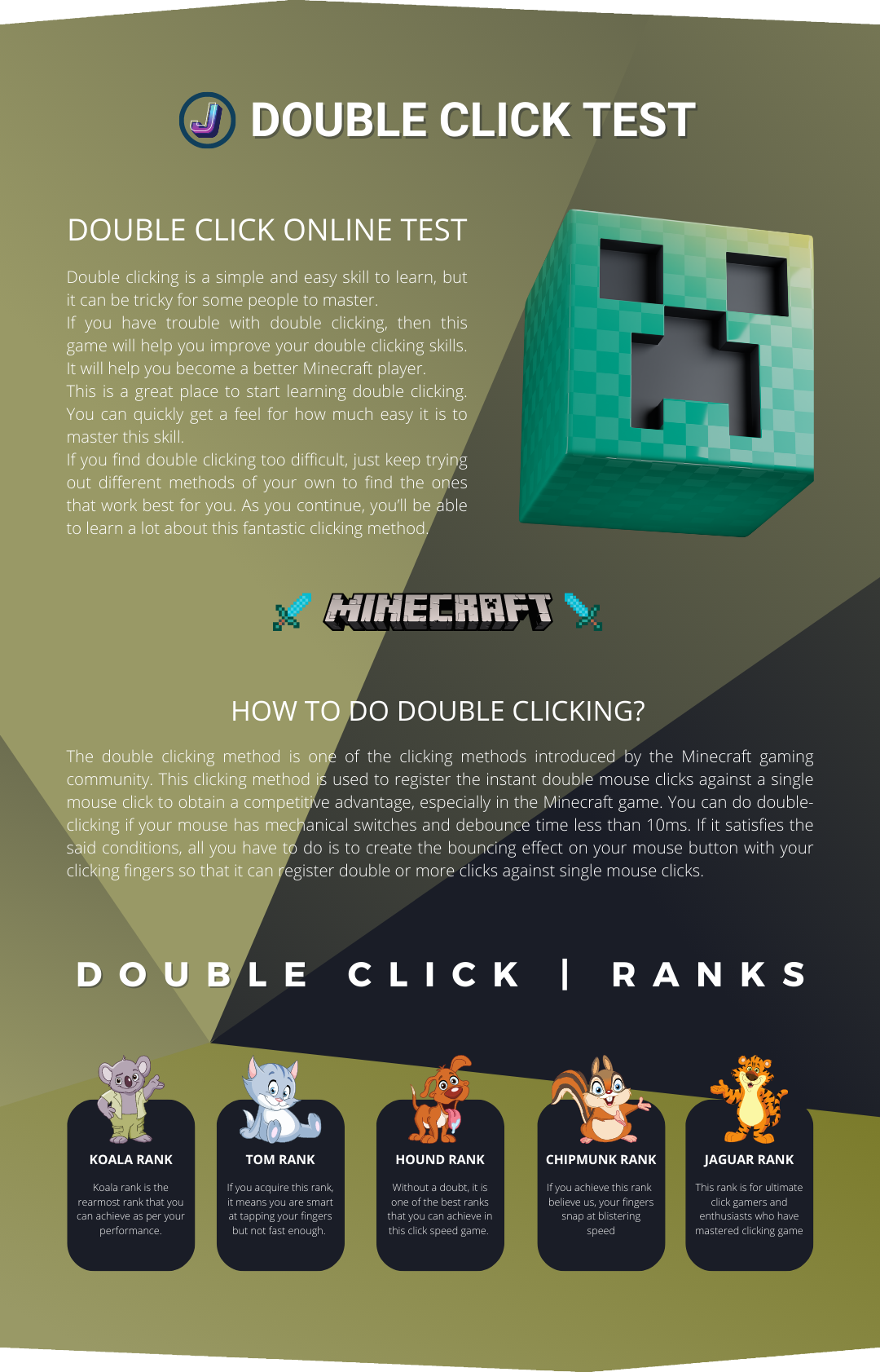 How to Do Double Clicking?
You can do double-clicking if your mouse has mechanical switches and debounce time less than 10ms.
If it satisfies the said conditions, all you have to do is to create the bouncing effect on your mouse button with your clicking fingers so that it can register double or more clicks against single mouse clicks.
Is double clicking easy to master?
It is easy to learn and master double clicking if you practice consistently and dedicate yourself to it. While some may take longer to become good at it than others, mastering this technique is quite possible.
What is so special about double clicking?
Double clicking lets you register multiple clicks against a single mouse click, thus allowing you to click faster and more often than your competitors, especially in PVP modes.