Spacebar Counter | Joltfly
Welcome to this exclusive Spacebar Counter. Tap on the play ▶ button to begin the game and start hitting the spacebar key as fast as you can to achieve a high HPS score along with exciting ranks.
In addition, try these exclusive Spacebar Challenges to master the art of spacebar clicking and take your skills to the next level of excellence.
Moreover, play this game to assess how many hits per second you can achieve by tapping the spacebar key for five seconds. Clearly, don't waste your time as special HPS ranks are awaiting you so, start playing this fantastic spacebar click game without wasting an ounce of time.
Meanwhile, test your keyboard keys, especially the spacebar key on this Keyboard Test, if you are facing problems striking your keyboard keys with pace.
Furthermore, if you are adventurous enough to test your clicking limits with some next-level mouse-clicking, then try this Click Speed Test to check how many clicks you can register per second.
Online Spacebar Speed Test
If you are curious enough to challenge your limits, this game is the right place for you to come out of your comfort zone and play this spacebar speed test to achieve extraordinary Spacebar Counter ranks.
Most Importantly, there is absolutely no need to download and install any software or app to take part in this test.
All you need is a functional desktop or mobile device with a decent internet connection to play this exclusive game.
Spacebar Hits Per Second Challenge
Joltfly is offering some breathtaking spacebar challenges for its users to take their spacebar clicking game to the next level of excellence.
Spacebar TikTok Challenge
As we know, that Spacebar Counter is quite popular on TikTok nowadays. People are sharing their top scores in TikTok videos to be a part of this trend, so it is probably the time for you to step into this challenge and flaunt your skills on this exciting social platform.
Do You Want To Be A Spacebar Champion?
Spacebar Counter is the best way to measure your speed and accuracy when it comes to tapping your fingers. You can compete against your friends or other players around the world for high scores! We also have a leaderboard so you can see where you rank among all of our users.
The more accurate and faster you are, the higher score you will get. If you're looking for something fun and challenging, this game is perfect for anyone who wants to improve their skills. It's easy enough that even beginners can play but still offers challenges for advanced players as well! So what are you waiting for?
Features of Spacebar Counter
The simple yet striking user interface and design of this game make it stand out. Moreover, there are plenty of benefits to playing this game. It not only helps you increase focused spacebar tapping but also enables you to stand out in critical moments in real-time games.
Furthermore, this game can help you increase your shooting and jumping speed in games like PUBG and combat games based on your preference and for what purpose you use the spacebar key frequently.
Above all, this game is absolutely competitive itself. There are exciting ranks that you can achieve based on your performance.
Few More Features
Joltfly is offering some breathtaking spacebar challenges for its users to take their spacebar clicking game to the next level of excellence.
Moreover, users can share their score and HPS ranks on social platforms like Facebook, Twitter, and Whatsapp with a single click to challenge their friends into beating their records.
In addition, the responsive design of this game enables Desktop as well as Mobile users to enjoy this game with an equally good experience. Moreover, iPad and tablet users can play this game as well by using extended keyboards.
Most importantly, you can tally your real-time score, count your hits, and observe the timer to progress accordingly in this glitch-free space bar counter.
Although mobile users can enjoy this game on their devices, it is recommended to use the Desktop or PC to play these games. It is a PC-focused game and involves some severe spacebar key tapping, which, unfortunately, mobile users cannot perform without using an external keyboard. Alternatively, mobile users can use external keyboards to take part in this exciting challenge, indeed.
Ranks Distribution & Score Table
| # | Ranks | HPS Score |
| --- | --- | --- |
| 01 | Mediocre Rank | 01 – 05 |
| 02 | Smith Rank | 06 – 08 |
| 03 | Warrior Rank | 09 – 10 |
| 04 | Queen Rank | 11 – 12 |
| 05 | King Rank | 13 or More |
Ranks Distribution & Score Table of Spacebar Counter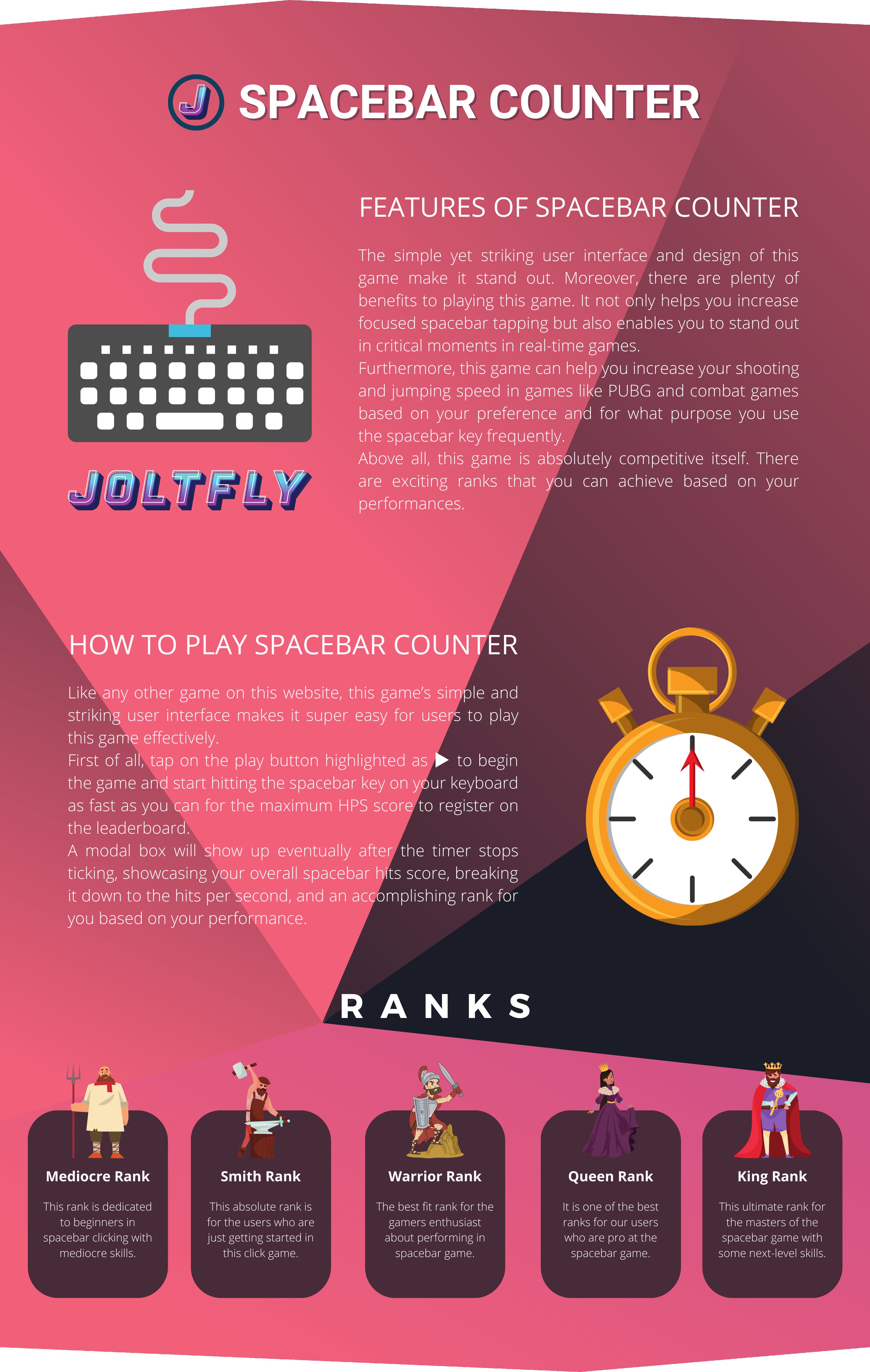 Ranks of Spacebar Counter
To make this game competitive and prize-worthy, we have introduced these ranks worth competing for. Without a doubt, It will motivate users to go for higher levels, eventually increasing their spacebar tapping skills as a result.
Moreover, these features will bring in some excitement for users in the spacebar, clicking which other space bar counters are missing or lacking.
Mediocre Rank
This rank is dedicated to beginners getting started with spacebar clicking.
Smith Rank
This absolute rank is for the users who are just getting started in this click game.
Warrior Rank
The best fit rank for the gamers enthusiast about performing in spacebar game.
Queen Rank
It is one of the best ranks for our users who are pros at the Spacebar Counter game.
King Rank
This ultimate rank for the masters of the spacebar game with some next-level skills.
How to Play Spacebar Counter Game
Like any other game on this website, this game's simple and striking user interface makes it super easy for users to play this game effectively.
First of all, tap on the play button highlighted as ▶ to begin the game and start hitting the spacebar key on your keyboard as fast as you can for the maximum HPS score to register on the leaderboard.
A modal box will show up eventually after the timer stops ticking, showcasing your overall spacebar hits score, breaking it down to the hits per second, and accomplishing rank for you based on your performance.
Furthermore, you can share your progress and ranks on social platforms from here to flaunt your skills and challenge your friends to join the best keyboard challenge.
Finally, please tap on the exit button in the top right corner of the popup box or the replay button at the bottom center of it to play the game again. Alternatively, you can simply click or tap outside the popup box to go back to the beginning phase.
FAQs
How to click the spacebar faster?
The Spacebar Counter speed purely depends on your finger's agility, which you can achieve with tons of consistent practice from scratch. Furthermore, hold down the space bar key with two or more fingers and try to generate a burst of spacebar hits through your whole hand instead of using just finger muscles.
What is the world record for pressing the spacebar?
The highest score recorded on this space bar game is 17.5 hits per second. Take part in this game right now to be the next high-score record holder.